** Currently On Break** Ever wanted to get help running your nonprofit, but didn't know where to turn? Did you know you need a nonprofit accountant, but that billable rate was too high? Check out the Nonprofit Ace Podcast. We're here to help the overwhelmed nonprofit leader reduce their anxiety about money so they can focus on making an impact. We keep the episodes under 15 minutes so you can fit us in and not think about an invoice.:)
Episodes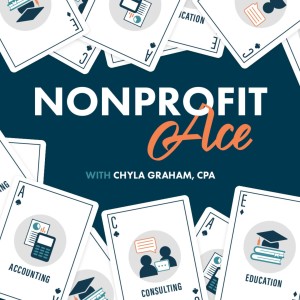 Tuesday Apr 25, 2023
Tuesday Apr 25, 2023
Are you looking to maximize your organization's transparency and ensure compliance with the IRS? Filing the correct forms can be intimidating initially, but don't worry! In this episode, we'll break down the basics of filing a 990 form, so you have all the information you need for success. If you're ready to confidently understand your 990, this episode is for you!
Top reasons to listen to the entire episode:
Learn how to demonstrate transparency in organizational operations to the IRS.

Break down complex information into bite-sized, digestible pieces with a Form 990.

Discover how to easily compare information between similar organizations and maximize your public support.
Links & Mentioned Resources:
Don't forget to follow the steps in this episode to be entered to win a copy of The Nonprofit Workbook: Tips & Best Practices for Start-Ups Serving the Greater Common Good
Connect with Chyla:
Thanks for joining us on the Nonprofit Ace podcast! If you enjoyed this episode, please leave us a rating and review to help us reach even more nonprofit organizations who want to connect their financial information to their mission.