** Currently On Break** Ever wanted to get help running your nonprofit, but didn't know where to turn? Did you know you need a nonprofit accountant, but that billable rate was too high? Check out the Nonprofit Ace Podcast. We're here to help the overwhelmed nonprofit leader reduce their anxiety about money so they can focus on making an impact. We keep the episodes under 15 minutes so you can fit us in and not think about an invoice.:)
Episodes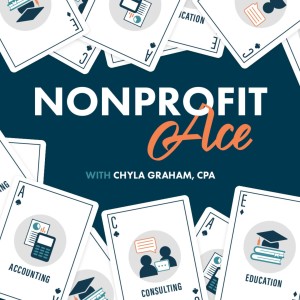 Tuesday Apr 18, 2023
Tuesday Apr 18, 2023
Do you wonder how often you need to do a strategic plan? What is the best path to sustainability? Maybe you wonder how you can be more efficient and effective with your systems and processes. In this episode, Rebecca Rodriguez is back and
answering all the burning questions holding you back from running your nonprofit. This episode is for you if you are ready to feel equipped and supported in your mission!
Top reasons to listen to the entire episode:
Learn how to develop a marketing strategy that connects with potential supporters.
Discover the importance of creating plans tailored to changing needs of the population and economy.
Be prepared to put resources in place to revise existing strategies when necessary.
Links & Mentioned Resources:
Connect with Rebecca:
Connect with Chyla:
Thanks for joining us on the Nonprofit Ace podcast! If you enjoyed this episode, please leave us a rating and review to help us reach even more nonprofit organizations who want to connect their financial information to their mission.