** Currently On Break** Ever wanted to get help running your nonprofit, but didn't know where to turn? Did you know you need a nonprofit accountant, but that billable rate was too high? Check out the Nonprofit Ace Podcast. We're here to help the overwhelmed nonprofit leader reduce their anxiety about money so they can focus on making an impact. We keep the episodes under 15 minutes so you can fit us in and not think about an invoice.:)
Episodes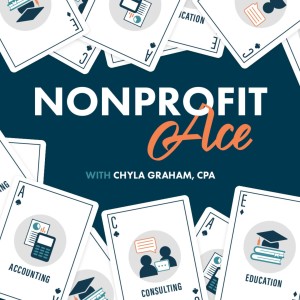 Tuesday Mar 21, 2023
Tuesday Mar 21, 2023
In this episode, we are bringing back one of our most popular episodes: Protecting Organizational Programming From Fraud; enjoy!
It's time to narrow down the focus to help protect your organization. In this episode, we look at the roles of everyone involved - from board directors and financial staff to donors, volunteers, and paid workers- in ensuring that programs are running safely while protecting against potential fraud or misuse of finances. Additionally, we also explore strategies for knowing when it's time to shut down a program before risk elevates beyond manageable levels!
Mentioned Resources:
Connect with Chyla:
Instagram
Thanks for joining us on the Nonprofit Ace podcast! If you enjoyed this episode, please leave us a rating and review to help us reach even more nonprofit organizations who want to connect their financial information to their mission.